New Garage Doors Northern VA & Fredericksburg
3 Things You Need To Know Before...
Buying a Garage Door
1. Which Is The Best Garage Door?
The best garage door is really the one that best matches your specific needs.
There are many companies that manufacture high-quality garage doors. We choose to sell and professionally install Amarr® Garage Doors because we feel they represent the best value for you...
These companies offer a tremendous selection of doors so you can be confident that they have a door that will fit your needs and the quality of their doors allows them to give you the best warranties in the industry.
Find the best style and material for you...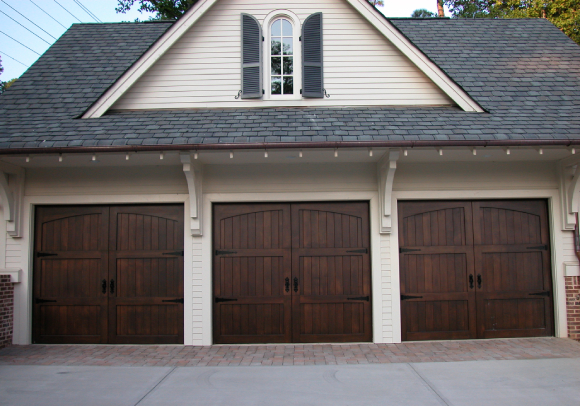 Wood Garage Doors have been around for the longest period of time. Wood has a natural beauty, is very versatile, and operates quietly. It may be painted or stained. Wood doors are available in a wide price range, therefore they are easier to fit into any budget. If you choose a wood door, you should plan to spend some time maintaining it. A wood door should be painted every 2 years or so.
Masonite garage doors, sometimes referred to as composite, come primed and ready to paint with a limited lifetime warranty. This environmentally friendly door is made mostly from recycled material and is crack-proof, split-proof and quiet. This door is insulated and the wood grain is properly registered so that the door has the elegance of wood. Once the masonite door is painted, it requires a minimum amount of maintenance. Masonite is an excellent choice when you want your garage door paint color to match your home, window shutters etc.
Steel is the most popular material used for garage doors today because of its durability. Steel is durable and it is virtually maintenance-free. It also has the advantage of being the least expensive garage door you can buy. If you're looking to add even more curb appeal, a Steel Door in Carriage Style like the one pictured, might be just what you're looking for...
Radically beautify your home with wood carriage house doors. These doors increase the curb appeal of your home so much that real estate studies have shown they increase the value of your house. But that's not the real reason to have them... the real reason is just how much you'll love the way the exterior of your home looks... and if the neighbors are a little jealous, well, that just can't be helped.
In addition to the above styles, you may also consider doors that are unique and offer options to match your home's design. These doors can reflect styles from old world doors, with decorative hand-forged hardware and architectural glass options. They are also available in options such as such as full view aluminum and fiberglass. Custom garage doors offer many architectural styles to complement your home's design.
2.Warranty ? How Well Do I Understand It?
Nearly every garage door comes with a warranty of some kind. Many companies claim they have a lifetime warranty but don't cover everything. Garage doors have many parts: rollers, cables, springs, door panels, etc. Find out what parts the warranty covers. When you read the fine print, you may find that the warranty does not cover warping, splitting, cracking, denting, or rusting and then limits parts to one year. When shopping you want to make sure you are comparing apples to apples.
3: Decide Which Garage Door Company to Buy From?
Unfortunately in Northern VA & Fredericksburg the garage door industry is not strictly monitored. There are many fly-by-night companies that are not adequately insured and do not need to stand by their work because they won't exist in 6 months. When you buy a new door look for a company that:
Carries the necessary insurance

Provides warranties on the parts and labor of your new garage door

has Technicians that are well trained and uniformed

has Trucks that are clean and clearly indicate the name of the company (Fly-by-night companies that change their name every 6 mos., will not typically invest in uniforms or paint the company's logo on the truck.)

You should expect professionalism and courtesy at all times

Supplies references from previous customers upon request.
At Precision Garage Door, we want your business and are willing to work hard to get it. When you choose us you can be sure we are prepared to do an exceptional job.
Give us a call... we are happy to answer any questions.
Emergency Service Available, please call now!